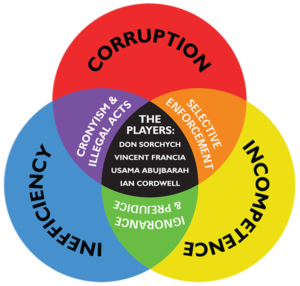 Corruption – Incompetence – Inefficiency

Cronyism & Illegal Acts – Selective Enforcement – Ignorance & Prejudice
DON SORCHYCH: Publisher of "The Sonoran News" who conspires to control Cave Creek politics in violation of A.R.S. § 9-500.14 & punishes "enemies" with scathing lies in his newspaper. He is Cave Creek's "Bully-In-Chief."
VINCENT FRANCIA: Don's puppet Mayor for the last 14 years. He's responsible for Cave Creek's mismanagement, excessive debt, and zoning & constitutional rights violations.
USAMA ABUJBARAH: Former Town Manager who destroyed town records, a felony. He caused Cave Creek to go into $65 Million debt. Dropping his run for Mayor, he may get a paid position from an elected Sorchych Slate. ISSUE 13 June 6-8-16 final
IAN CORDWELL: Appointed as both Planning Director & Zoning Administrator, a conflict of interest. He's part of Don's racketeering crew & screws with property rights.
VOTE FOR THE CANDIDATES WHO COMPREHEND CAVE CREEK'S CRISIS! ISSUE 14 June 22-16
READ THE SONORAN TRUTH FOR CAVE CREEK NEWS & ENDORSEMENTS
NO MORE LIES – GET THE TRUTH!!!