A Sonoran Truth Guest Editorial by Arek R. Fressadi, September 1, 2017.
On August 1, 2017, Carrie Dyrek, Cave Creek's longstanding Town Clerk, was unanimously selected to be Cave Creek's Town Manager. Carrie's passive/aggressive personality is perfect for Town Manager because she knows where all the bones are buried. Former Town Council members Shea Stanfield and Grace Meeth acknowledged that Carrie tampered with Town Council minutes and agendas. Tampering with public records is a Class 6 Felony. A.R.S. § 13-2407. The presumptive term for a Class 6 felony is one year in prison. The aggravated term as in Carrie's case, is two years in prison.
According to the Sonoran News: "Planning Commissioner Reg Monachino said the town manager has two duties, articulating the policies set by council and managing staff."
Regretfully, Reg Monachino is painfully ignorant of the duties of public office.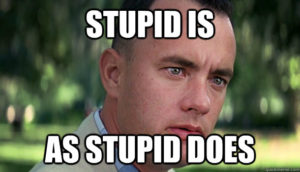 The first duty of every Cave Creek elected official or employee is to abide by their sworn Oath of Office: To "support the Constitution of the United States and the Constitution and laws of the State of Arizona;" to "bear true faith and allegiance to the same, and defend them against all enemies, foreign and domestic" and "faithfully and impartially discharge the duties." The second duty is to serve the citizens of Cave Creek. For decades, Cave Creek's Town Manager and Town Councils have not upheld their Oaths of Office.
One of the core tenants of town governance is respecting property rights and due process––entitlements embedded in the 5th and 14th amendments of the U.S. Constitution. By their Oath of Office, every elected official and employee in Cave Creek must strictly comply with these rights.
Carrie did not. In response to a Freedom of Information Act "FOIA" request, Carrie Dyrek admitted on August 29, 2016 that Cave Creek has been violating the Constitutional rights of its citizens since 2001 as the Town's Official Policy. Like a good Nazi, Carrie  claimed that "she was told" not to comply with Federal law as codified in A.R.S. § 9-500.12 sometime in September 2001. A.R.S. § 9-500.12 requires Cave Creek to notify property owners that they have a right to appeal Town requirements for dedications or exactions of land, easements, or improvements as a condition of granting approval for the use, improvement, or development of real property. It was Carrie's duty to provide notice to Cave Creek property owners. By failing to abide by A.R.S. § 9-500.12 and evading the Town's burden of proof for compliance per A.R.S. § 9-500.13, she not only violated the U.S. Constitution, she violated Arizona's Constitution, State Law, and Town Ordinances for over 16 years. As a result, property and due process rights of hundreds of citizens in Cave Creek have been violated. By just "doing what she was told," Carrie violated her Oath of Office. She is complicit in a conspiracy to steal millions of dollars of property by a fraudulent scheme based on violating Constitutional rights. Carrie faces mandatory prison confinement if convicted.
In 2001, shortly after I spoke at a Town Council meeting regarding the creation of a town center, Ian Cordwell instructed me to develop my two separate parcels into an adobe enclave through a series of lot splits rather than a subdivision. When I applied for the first lot split, Carrie stopped providing mandatory notice as required by A.R.S. § 9-500.12, where a hearing officer would vet the lawfulness of the Town's "requirements." In fact, Cave Creek rid of their Hearing Officer earlier in 2001. Without notice of my rights per A.R.S. §§ 9-500.12 & 9-500.13 and detrimentally relying on Cave Creek's instructions, I did not question Cave Creek's requirement for a 25' x 440' strip of land to approve my lot split. Unbeknownst to me at the time, Ian lied when he told me a subdivision is 5 or more lots––a subdivision is really 4 or more. The strip of land Cave Creek required became a 4th lot to transform the "metes and bounds" survey split of parcel 211-10-010 into a wildcat subdivision that is unlawful to sell without a final plat map because is the lots are unsuitable for building and not entitled to permits per Section 6.3 of the Town's Subdivision Ordinance., Any permits issued are void per Section 1.4 of the Zoning Ordinance. However, the Town issued permits to hide the fact that the Town's exaction of a strip of land transformed the property into a Wildcat subdivision. Ian must order the property vacated per Section 1.7 of the Zoning Ordinance. These are continuing violations. Cave Creek did the same thing to adjacent parcel 211-10-003––created a 4th lot and issued permits so that the Town could steal a sewer from me and obtain favorable rulings from state courts that any claims against the Town were time-barred. Cave Creek's attorneys committed fraud on the court by failing to disclose that Cave Creek did not comply with Federal due process protection to obtain favorable rulings in violation of the Supremacy Clause. The Supremacy Clause states that the U.S. Constitution is the supreme law of the land. As such, my rights to due process, equal protection, and just compensation for taking of property take precedence over state and municipal laws, such as Cave Creek's fraudulent use of statutes of limitations, and Town Codes that "legalize" theft of sewer infrastructure, and decriminalize violations to Town zoning ordinances to reduce their liability after I filed my lawsuit.
Sorchych says that Washington is a "sewer," run by an all-powerful "Establishment" such that federal government cannot be trusted. Here, Cave Creek is run by the Sorchych "Establishment" such that Cave Creek government cannot be trusted.  "In local elections 80-90% of the candidates for local office Sonoran News endorses win."
The Sonoran News claims that it successfully fought two projects in Cave Creek, "Park West and Southwest Sands, that would have changed the face of this desert rural community." However, the Sonoran News' heavy handedness almost caused Cave Creek to go bankrupt—the Town had to rezone residential property in order to obtain tax revenues from Walmart.As to Park West: In 2012, Planning Commissioner Ray Fontaine "claimed 99 percent of Cave Creek residents are retired and on fixed incomes and he felt residents wanted more businesses close in." I said the same thing on May 29, 2001; better to concentrate business in the Town Core instead of converting Cave Creek into a sprawling suburban community. Don Sorchych then called me a "high-priced consultant" coming to "tell Creekers how to live," even though I used to hike Cave Creek in the 70's and moved here to raise a family a decade before Don showed up. When I corrected Don's false facts, you could hear a pin drop at the Town Council meeting. In the Meeting Minutes, Carrie Dyrek misspelled my name, misstated my residence as Desert Hills when I lived in Carefree, and misstated my comments even though I gave her written copy. As a consequence of expressing my views based on years of sustainable building experience, Don and his Junta conspired to wipe out my family business and investment-backed expectations by a pattern of racketeering as a 1st Amendment retaliation vendetta. Our intent was to support Cave Creek as a vibrant arts community. Instead, we got disparaging press and a litany of litigation over 16 years.
As such, Don's gestalt Queen Carrie 9/11 editorial makes sense. By violating her Oath of Office, Queen Carrie, as part of the Cave Creek "Establishment," destroyed the twin towers of Federal and State Laws in our Town, with rampant residual effects of continuing zoning violations. However, Carrie, Ian, and the current Town Council could correct Cave Creek's violations of Federal and State laws, and Town ordinances.
"The government ordinarily is neither estopped by `the casual acts, advice, or instructions issued by nonsupervisory employees,' nor estopped `from correcting a mistake of law.'" Thomas & King, Inc. v. City of Phoenix, 208 Ariz. 203, ¶ 27, 92 P.3d 429, 436 (App.2004) (internal citation omitted), quoting Valencia Energy, 191 Ariz. 565, ¶¶ 36, 41, 959 P.2d at 1268, 1270. 
If Carrie and the current Town Council fail to correct these mistakes of law that caused continuing violations, Carrie, Cave Creek, Town Council members, and conspiring Town employees and agents could be faced with hundreds of lawsuits from property owners when they discover that the Town's Official Policy for the last 16 years was to ignore their Constitutional rights, that Cave Creek concealed its failure to abide by A.R.S. §§ 9-500.12 & 9-500.13 in order to extort or coerce "gifts" of land, easements, and improvements without just compensation.
Cave Creek employees and elected officials do Don's bidding to keep their jobs, which is why the Sonoran News falsely claims: "There has been a steady improvement in the quality and integrity of Cave Creek town staff, councils, and commissions." Sorchych is a hypocrite: His paper claims it is "dedicated to exposing corrupt and unethical local… business and political practices," but it is Don and his Junta that is corrupt and unethical.